Events
Conferencing | Product Launches | Brand
Then create, manage & deliver.
EXPERIENTIAL
& BRAND ACTIVATION
INCENTIVE PROGRAMS
Looking to improve your business performance?
Read more..
Incentive programs have long been the most powerful motivator of staff performance, customer loyalty and brand awareness – which in turn becomes an indispensable tool to your company's profitability.
At Three in One we can design, develop and deliver innovative and unique tailor-made programs that will become known as the ultimate 'experience of a lifetime' incentive reward for your staff or business partners.
From teaser campaigns through to the ultimate travel destinations, we can create an incentive program that really inspires your employees or business partners – something that will drive them take positive action and boost your sales.
Three in One Productions can create a tailored program to:
Encourage your staff towards achieving desired business goals
Motivate your staff to improve overall performance
Strengthen business partner relationships
Encourage new product adoption
Motivate business partners to achieve ambitious goals
Reward and build customer loyalty
Reward outstanding employee performance
Whether it is an adrenaline packed weekend in New Zealand, sailing the Adriatic coastline visiting stunning Croatian Islands, or experiencing African wildlife up close on a safari, we will create a unique and memorable incentive program that will be talked about for years to come.
We can suggest destinations based on our extensive travel experience, design tailor-made itinerary programs, create and deliver appropriate marketing communications…and most importantly make all travel arrangements!
TEAM BUILDING
Looking to increase your team performance?
Read more..
We can custom design and deliver Team Building solutions across Australia (and internationally) that can help you achieve key team objectives in a fun, yet safe environment.
Our dedicated team can assist with organising:
Team Building Events
Team Development Programs
Business Games
Conference Experiences
We will get your team's mind and body moving with our exciting mental, creative and physical team building activities that will challenge, build and motivate any team.
The team at Three In One Productions will ensure that your Team Building requirements are managed with the highest level of professionalism.
EVENT TRAVEL
Need to coordinate a group
trip?
Read more..
We understand that travelling as a group involves extensive coordination to ensure a smooth and successful trip, whether it's a domestic or international destination.
Our dedicated team can assist with organising:
Destination Research
Flights
Accommodation
On-the-Ground Transfers
Personalised itineraries
Meet & Greet Staff
Our dedicated team will ensure that all your event travel requirements are managed with the highest level of professionalism.
Corporate Communications and Event Coverage / Branded Content
/ Digital Media Know-How
If you need someone to help guide you through, from concept to delivery, let us assist you.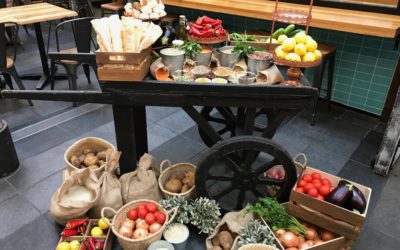 3in1 were asked to assist with the Event Styling fo the client's Launch of their new Restaurant location in Sydney CBD. The middle eastern restaurant wanted to dress their outdoor space with themeing that represented their name "Bekya". The BEKYA man is a travelling...